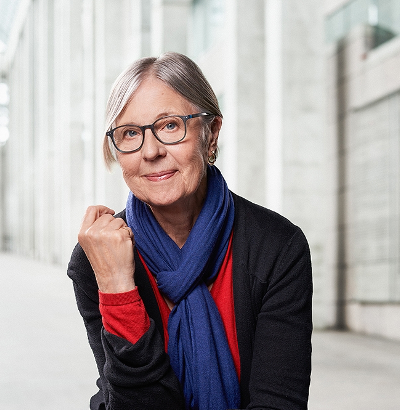 Ann Thomas is Senior Curator of Photographs, at the National Gallery of Canada, and has on two separate occasions acted as Interim Chief Curator at the NGC. She has organized numerous exhibitions and installations and is the author of several catalogs and publications such as Lisette Model (1990); American Photographs 1900-1950 (2011) co-curated the exhibitions Fauna and Flora (2012) and curated Donald McCullin (2013), The Great War and the Persuasive Power of Photography (2014) and Luminous and True: The Photographs of Frederick H. Evans (2015). The Intimate World of Joseph Sudek (2016); The Extended Moment: 50 years of Collecting Photographs at the National Gallery of Canada (2018).
She is the curator, contributing author, and editor of Beauty of Another Order: Photography in Science, (1996). She has also authored a numbered of articles and essays– some of the most recent being Isabelle Hayeur: American Dreams: Desert Shores (2019) "A Tale of Two Schools: The New School for Social Research and the Photo League 1934-1955" published in Frame and Focus: Photography as a Schooling Issue. She has co-authored a number of publications and was a recipient of a three-month Getty Research Fellowship in 2011. Among various current projects, she is most excited about several independent research projects one of which will look at the impact of electricity on photography art as it relates to picture making and iconography.
In her capacity as Senior Curator of Photographs she is responsible for the development and interpretation of 19th, 20th century, and contemporary international photographs and related materials. She does research on specified aspects of the history of photography and related historical fields and organizes photographic exhibitions at the Gallery both from the collection and with external loans.