CONTOS —
Your project the Traces Left Behind is centered on the South London Community New Malden, which consists of the largest population of North Korean defectors. What is your entry point into this community? How did you come to work within this context? Is there a personal connection for you? In general, how to select subjects for your projects, and what is your relationship with the subjects of the work?
HYLAND —
I contacted a charity called NK Connect in November 2018 with Gem Fletcher, an Art Director who I was working with. They do some exceptional work in the community despite having minimal resources. I showed them some of my recent work, explained that I wanted to create some uplifting art about the community. I was interested in a mutually beneficial collaboration. This is a long term project for me; much of my time has been spent getting to know different groups within the community, building trust, and learning about their experiences. A lot of time was spent together before we even began shooting.
Our biggest challenge was the language barrier. Very few North Koreans within the community speak English. So one of the most important parts of the project was working with a translator. We connected with The Korean Senior Citizen Society who is a part charity shop, run by volunteers and part education center, running all kinds of lessons to help people in the community. There, we met some of the incredible older women who formed their traditional dance troupe who practice their routines in the back of the shop. This was a great starting point, as the ladies love to perform and enjoyed the creative process of being photographed. Other programs include lessons in how to be happy where they use laughter therapy, traditional Korean instruments, an introduction to museums in London, they learn reflexology and practice on each other, choir practice, free haircuts, and English lessons. Every day they supply a free lunch where the seniors cook for each other. Anyone is welcome to join, and it's a crucial part of their daily rituals as well as being a lifeline for new defectors. Their ages range from around 55 to 94.
From there, they introduced us to the KPOP dance competitions which were held in the Churches in and around New Malden. So I started going to the competitions and slowly introducing myself to the community, not shooting just seeing who was interested in speaking to me. I was interested in finding out why the groups were so important to them, what were they hoping to get out of it? Is it about connection? Is it a sanctuary for them or something more existential?
I also spoke to the translator who took me around New Malden and introduced me to members of the community that was perhaps more isolated. Surl Lee is an artist (builder by trade) we visited a few times in his studio, which is a garage behind a residential home.
The translator also acted as a fixer; she found a restaurant in the back of a small supermarket that is just a door by the side of a fridge that I would never have found without her. The restaurant is run by a North Korean chef who shared various North Korean dishes with us. So much of the project has been about spending time, listening to their stories, and experiencing their incredible culture until we became friends.
The North Korean community draws considerable attention from the press, but our aim is to focus on much more of an internal understanding of the community, to look at the less tangible elements of a re-established life so far from home.
I am a great believer that it is the trivial acts that tell us the most about humanity. From my experience researching the community, it is the simple things such as dance and sharing food that has established a democratic setting whereby everyone is accepted. A safe space for people to express themselves freely, no matter what their background. This has been especially evident at the KPOP competitions, where the children have come from all different walks of life and backgrounds from different countries.
I hoped for the project as a whole to be vibrant, hypnotic take on our current political climate. Looking at identity and ideological views through rituals that at first, could be dismissed but should most definitely be celebrated. I wanted the series to have a very practical resolve, in that it helps bring together the refugee communities that live alongside one another here in London. It also aims to celebrate cultural heritage whilst looking at the human rights element of individual stories. The different ways we express pain and compassion or how symbolic gesture is used not just for oneself but to maintain a connection to one's roots, to one's country. I wanted the stories to be told in a more intimate way and show how we use our bodies & movement to digest complex emotions, focusing on the power of the more ethereal aspects these activities sometimes bring out.
My work often looks at the idea of negotiating borders and looking at space and place in terms of theory. The two different aspects of the human/landscape relationship.
It is never personal to me, my memories, it's specific to that culture and country. Also combined with my interest in leisure sites as a perfect case study for the way we interact and what we can learn from humanity when looking at what is initially perceived as trivial.
The "human dimension" of a landscape has always been important to me but it has become increasingly interesting recently whilst I am focusing more and more on the environmental factors we are facing at present, advances in technology, and the effect that has on the people and the land. So I'm looking at the important use of landscape as a physical 'space' for living and working, but also as a 'place' with its meanings and contributions to societal identity. Not focusing on my identity but the identity of that country and their history. Through that, however, I'm also reflecting on my place in the world and my understanding but that isn't something I focus on with the work more a reason behind why I make the work and what fuels me to do so.
It's through landscape perceived as 'place' that I look at the concepts of 'sense of place' and 'place identity'. In this case, it's London, which I haven't done before, I'm not usually making work about my home. This project is looking more at place-related behavioral rules and how they are being transferred.
These people connect through dance. By performing in front of each other they are putting themselves in a vulnerable position but they are so enthusiastic which creates a really positive space. Supporting the idea that people know how to act within their environment in a secure way and thus build up a personal relationship to it. I'm becoming more interested in mental map studies within this project and the notion that borders support people's efforts to establish a clear representation of their places.
CONTOS —
The video begins with a stage-like setting presenting a crisp palette of gentle tones as text in Korean and English provide a little context: "defectors come to settle; to build a new life free from the regime." Immediately, it is a beautiful scene, one that reveals a feeling of joy, grace, and intention. The content is contemporary, yet traditional, clean, and yet a little unclear as to where and when the scene is situated. It is a compelling juxtaposition of concepts and aesthetics, one that carries throughout. Can you talk about your choices? Why did you choose to present amiable aesthetics that feel light, and pleasant as the backdrop to content that is heavy, or at very least complex? Was there intention in blurring the visual sense of time, while providing text that gave specific clues about the subjects? How do you utilize the balance of aesthetics and content to portray the complexity of your subject?
HYLAND—
For this project, I was looking a lot at the colors that appear naturally in North Korean architecture. Oliver Wainwright's book 'Inside North Korea' was a great resource in terms of studying the color associated with the regime, these quite sickly pink, blue and green pastels are a recurring theme throughout, so that was the reason for the color scheme.
I'm also an avid fan of Matthew Barney's Cremaster Cycle and I think that has seeped into the aesthetic unintentionally, the push and pull between sculpture and mythology. That's something I hope to push with the next studio shoot of the artist also, bringing the themes that naturally occur in his work to life and presenting him and the props we are going to use in quite a sculptural way.
The final set for this first chapter ended up being heavily inspired by a particular installation by the artist Marleen Sleeuwits, who kindly gave her permission. She very much investigates the idea of non-places, creating spaces that could be anywhere and nowhere. Impersonal environments where time and geographic location becomes abstracted, concepts which were vital to the film as we needed to use the set to isolate the individuals from their day-to-day lives. Moving them away from reportage, using the set as a visual device to create a heightened reality where there was more room left for contemplation.
That use of abstraction was important because it was only by removing other referential frameworks that we can give each story it's own blank canvas in a sense, which really helps focus in on each of these individuals. So we are able to absorb the emotion in these movements and allow their character to come out. It's a visual device to help the audience resonate and feel a sense of connection, whilst attempting to remove some of the prejudice or longstanding clichés.
CONTOS —
Your work often explores the relationships of land and identity and how the two inform one another. You also tend to incorporate memory that is framed both by nationalism and the internal interpretation of one's life. In Traces Left Behind, your subjects are defectors, individuals who have left their home nation, and established a home in a new country. In this case, nationalism, place, memory, and identity are renegotiated. Elements of the old life are preserved, and others are left behind. What attracts you to the ability to rewrite our own narratives, to keep what we aim to preserve, and to liberate ourselves from what we object to? There is a unique agency that you seem to point to in a way that, at least to me, reads like a heroic notion of self-determination. Is this agency something you think we all possess, or is it unique to specific circumstances? Why is this a significant concept to explore for you?
HYLAND —
I am greatly affected by any narratives that relate to abuse of power, we see it all around us in different forms and to varying degrees. It can so often make people feel powerless or overwhelmed and that is something I strongly object to. One rarely knows their own strength or self-determination until they experience extreme adversity & hardship. I am definitely drawn to the concept of resilience.
I'd been thinking about how people get trapped in a narrative of trauma. It's almost as though you're supposed to feel ashamed of your past when something bad has happened to you. So the rituals and the performing of these dances are ways of expressing their culture but not having to do it through language, which I think is quite healing. I began thinking about movement as a form of healing and how non-verbal activities are often the things that resolve trauma rather than having to sit and relive something. New bodies of work usually start for me, when I have had a visceral response to a certain moment.
I think it's quite often an emotional reaction to something I have experienced or read. I tend to work quite intuitively and then follow that with a period of extensive research, to help me understand how I can push the parameters of my chosen subject matter. It's very much about putting the time in for me and usually ends up being quite labor-intensive, whilst I'm trying to understand what it is that has captured my imagination and where the nuance lies within the material, and the pitfalls in succumbing to fantasy, nostalgia, and divisive stereotypes when looking at North Korea as an artist.
There was an interesting article in Frieze written by Cleo Roberts that summed up my overall feeling well. She addresses the way in which 'The popular imagination often holds North Korea as a hermetic state with which any contact is untenable.'
As I was reading the article I was in complete agreement, it's important to avoid idealism in the work. She discusses the importance of undoing these stereotypes, and instead 'revealing the higher degree of mobility, autonomy, and access than is conventionally associated'.
Looking at the nation's humanity, averting attention from the' country's masquerade' and looking at and making space for the 'individuality' to be drawn out from this 'totalitarian state'.
Artist Surl Lee crossed the border more than 10 times something I had no idea was even possible, and whilst he mentions that this may have been because of a mixture of naivety and not fully realizing how much danger he was putting himself into, that paints a very different picture than the uniformity of the mass games and compliance that we have in our consciousness 'reveling in uniformity and obscure characterization' as Cleo Roberts sensibly points out.
She uses a phrase at the bottom of her article about 'showing the glitches in this synchronized operation'. I've thought about that a lot in this project, each of the North Korean subjects are these glitches and it's very important that they aren't disenfranchised or treated as the 'other', they are a flourishing part of the London community now & I would say much better at finding and building community/traditions than many of the people born here appear to be. We have a lot to learn from them and are lucky to be invited to experience and share their culture.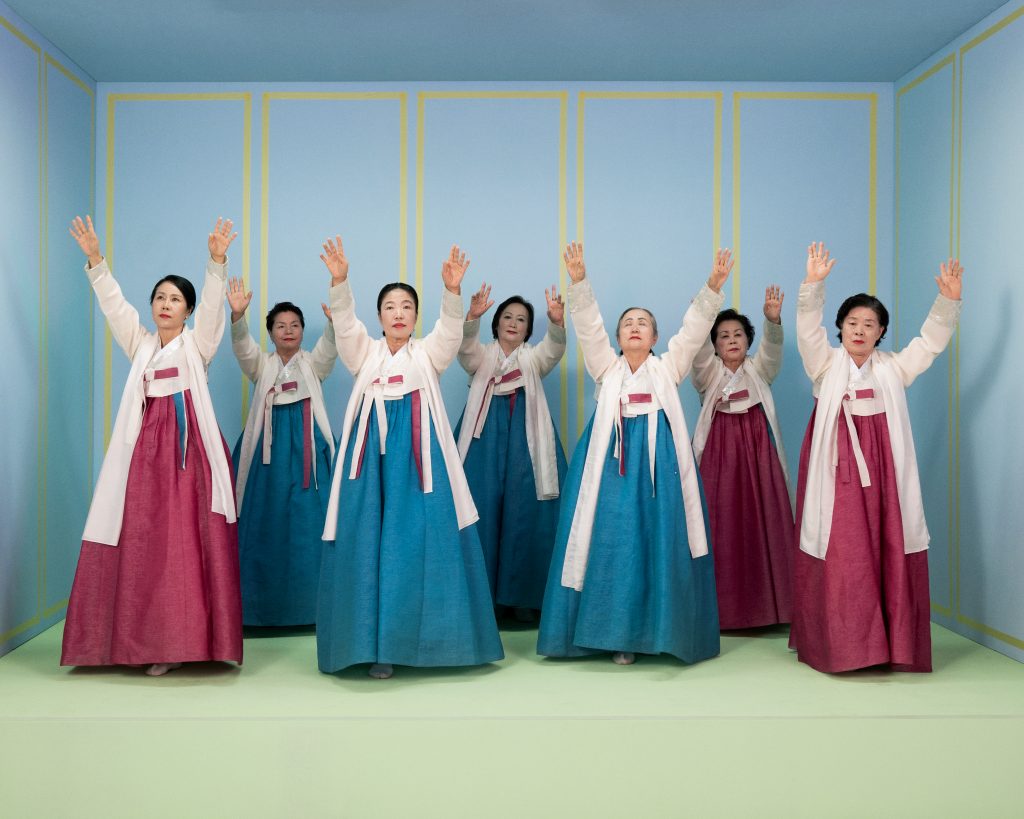 CONTOS —
This interview is part of a larger series of investigations that CENTER is conducting under the banner of the Photography 20/20 Compendium. We are exploring how lens-based media has evolved in the 21st Century, its role in the present day, and speculating about the future of the field and medium.
What have you witnessed in the 21st century that you consider significant shifts in photography and lens-based media? How do you see the role of lens-based media impacting the world today, and what do you hope for the medium's future?
HYLAND —
The dissemination of imagery has become so fast that I think many people have become aware of the constant level of distraction that we are all engaged in. There seems to be this idea of mass preservation of every experience. I think people are becoming increasingly suspicious of this constant level of engagement & starting to realize it is unnecessary and unhealthy.
It is important for me to use my practice in conjunction with a particular cause, to figure out how I can use my practice to benefit society. I think across the world we are seeing people turn to a slightly more holistic approach to life and work, this has always been important to me and something I am putting a great deal of thought into, I think most people are. As a result, I think there will be a greater level of introspection and attempts to study and dismantle the medium for lens-based media.

Hopefully, we'll also see new levels of interactivity between the language of the media and how artists are tackling this through their art. Each type of image influences the production and reception of the other - advertising, music videos, TV, etc. So I would imagine there will be a deeper level of interconnectedness. That is something I very much admire in artists such as Matthew Barney and Julian Rosefeldt's work. They address the metaphors of changing and vanishing systems, ideologies, and societies. I think we are all getting more adept at creating our own visual language and developing these interior worlds to make statements about our fundamental values and creating an important dialogue around civilization and the current state of the world.
Watch the video HERE.